Site updated January 22, 2002

Variety is the Standard for Miniature Colors
Appaloosa
Many appaloosas are born with lots of color while others are born solid and gradually acquire appaloosa coloration. It is very difficult to know at birth what color the foal from appaloosa parentage will be. Below is an example of a Xenon-Light Van't Huttenest son that was born bay. When he was sold at four months of age he showed absolutely no appaloosa characteristics. He had no white hairs, no striped hooves, no scelera, and not even a speck of pink skin. Here you see him pictured at four months, three years, five years, and six years. He is Little America's X- Skipper and is owned by Billie Lindale in New Jersey.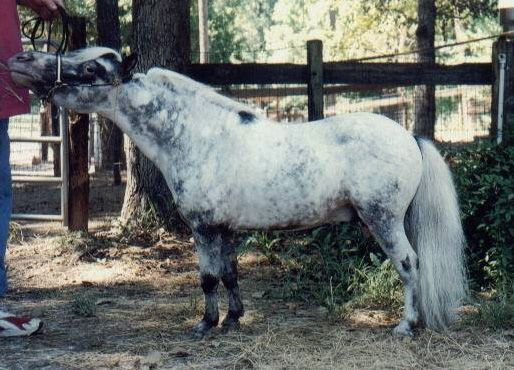 Here are some typical examples of appaloosa patterns. Pictured below are a snowcap blanket which is said to be homozygous, although currently there is no genetic test to prove this. The horse is Little America's Tex Lil Feather, a son of Little America's Sesquicentennial Tex. The next is a black blanketed app, Little America's Tex Two Timer LHH, another son of Sesquicentennial Tex, owned by Robin Tondra of Talking Rock, GA. The next is a leopard appaloosa, also by Tex, named Little America's Tex Kickapoo. I might add that all three of these colts were born the color that they are shown and have pretty much stayed the same color. By the way, the last two colts are out of solid mares with no appaloosa background!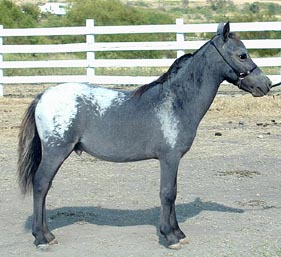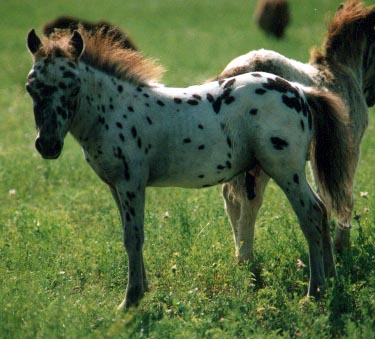 ---
Blue Roan and Grey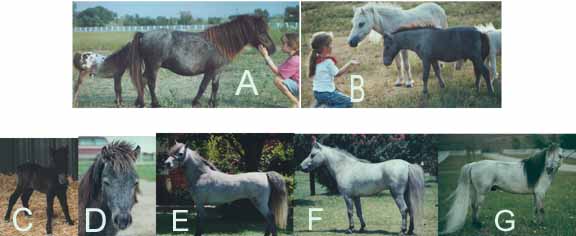 The A photo is a mature mare that is a true blue roan. You will see that her legs and head are black but her body is a mixture of black and white hairs making her appear bluish in color. When she has her winter coat she is mostly black.
The photo B is two grey fillies.... a weanling and a two-year old. The weanling was born black and the lighter one was born silver. Both will be white by the time they are eight to ten years of age.
The bottom five pictures are ALL OF THE SAME HORSE at various ages. C is at one day old. You can hopefully see that he shows some white on his nose and over his eyes. By the way, both his sire and dam are grey.
D is the same colt as a yearling. You will notice that he has lots of white hair scattered throughout his face (and also his body which you can't see in this picture).
E is about three years of age... notice the dark at the top of his tail and his legs are still fairly dark. He is also showing dappling at this age.
F is about a year older ... notice his legs have lightened and the tail is lighter. He still shows some dappling, but not as much as the year before.
G is age six... note the tail is almost totally white but he is still keeping some of the black in his mane but all the dapples has disappeared. He is now eight years old... sorry I don't have a current picture. He is almost totally white... his mane has a slight greyish tint but the body is totally white.
The horse is NFC LA Egyptian King Rapsody.... by Hemlock Brook Egyptian King and out of Soat's Lil Rapsady... Here is another dramatic example of the greying gene:
Send this site to a friend by simply clicking!