Little America
King's Olympic Gold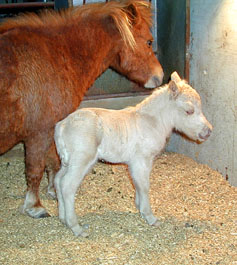 Palomino Colt
Foaled February 25, 2002
Sire: NFC LA Egyptian King Rapsody
Dam: Roy's Toy Dealerette
This is a magnificent colt! A rare and exciting addition to our herd, he is part of a National Champion quality family. His sire, NFC LA Egyptian King Rapsody, was the 1994 Reserve National Champion Amateur Stallion, whose sire was the 1986 National Grand Champion Senior Stallion, Hemlock Brook Egyptian King.
Olympic's dam, Roy's Toy Dealerette, was an outstanding show mare, herself, and is by the Bond Dynamo son, Martin's Dealer's Choice. That makes Dealerette a paternal half sister to the TWO_TIME NATIONAL GRAND CHAMPION Stallion, Winner's Circle Adonis.
Olympic's full brother is Little America King's Excaliber, who in 1999 was the AMHA Honor Roll Champion for Amateur Stallions, Level 2. He was the Reserve Champion Honor Roll in Yearling Stallions 28" and under, and also Solid Color Stallions and Geldings. He also was AMHA Top Ten in three categories.
His full sister, Little America King's Lady O Lake, has been shown very little, but in 2001 was the Central Championship Champion Yearling Mare 28" and Under, and also Reserve Grand Champion Junior Mare at the same show.
If you want our best. This is it!