Site updated June 14, 2001

Little America's It's Oprah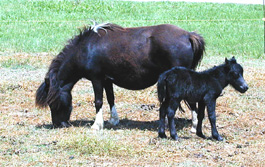 Black filly
Foaled April 26, 2001

Sire: Little America's Orion Mr. It 28.5"
Dam: LBF's Contessa 32"

If you are looking for a striking show filly, give this outstanding girl a second look. Her sire is one of our Orion-Light Van't Huttenest sons. Orion has had eleven offspring who have won the National Grand or Reserve National Grand Championships in AMHA; a feat matched by no other stallion. This filly will be one to walk in those illustrious footsteps!
Questions or comments?
Send this site to a friend by simply clicking!