Site updated October 16, 2001

Little America's Tex Hallelujah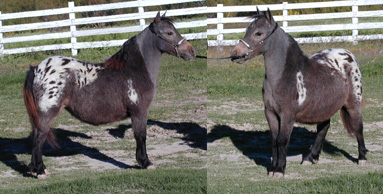 Bay Appaloosa Filly
Foaled April 13, 2001

Sire: Little America's Sesquicentennial Tex 32"
by Xenon-Light Van't Huttenest
by Orion-Light Van't Huttenest
Dam: Flying W Farms Satin Doll 30"



I was waiting anxiously for this filly to arrive before I was to leave for THE Miniature Event in Lufkin. Satin Doll had been pacing for hours and I knew that she was very close to having her foal. At 4:26 A.M. the beeper went off and a minute later this little package was laying at my feet! I said, Hallelujah Jubilee! Decided that would make a great name, but was a little too long, so decided on Tex Hallelujah. This filly belongs to our daughter, Lisa Taylor, who owns Satin Doll, who, by the way is twenty-one years old! We haven't decided yet if we will sell this filly, but am leaning towards keeping her to take her mother's place in our broodmare band ultimately.
Questions or comments?
Send this site to a friend by simply clicking!