Site updated October 16, 2001
Little America's Tex Galaxy
Sold Congratulations to Jaqueline Forte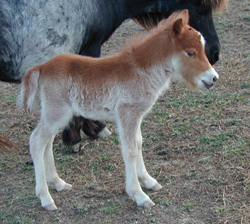 Sorrel Colt
Foaled May 5, 2001

Sire: Little America's Sesquicentennial Tex 32"
by Xenon-Light Van't Huttenest
by Orion-Light Van't Huttenest
Dam: Lil Hoof Hollow's Jumping Judy 32.5"



What a pretty star this colt has. He will make a wonderful youth gelding or companion for someone wanting a special miniature pet. He has a tremendous neck and "look at me" attitude which should take him far in the show ring.
Questions or comments?
Send this site to a friend by simply clicking!