Site updated October 16, 2001

Little America's Miss Dyna Buckeroo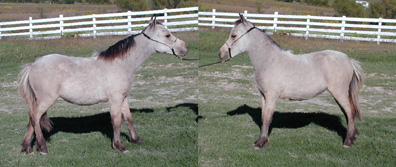 Buckskin Filly
Foaled April 30, 2001

Sire: Little King's Bingo Buckeroo 29"
Dam: Little America's Miss Dynamo 32.25"
by Bond Dynamo

Seven of the last eight National Grand Champion Senior Stallions are cousins to this filly! All go back to the National Grand Champion, Boone's Little Buckeroo. This filly is a grandson AND a great granddaughter. If that weren't enough, she is also a granddaughter of the another legend of the breed, Bond Dynamo. In addition, her dam is a half sister to the famed Landry's Cowboy Del. If this filly won't show, I don't know where to find one who will. This has been a great season for our older daughter, Lisa, who owns this wonderful filly.
Questions or comments?
Send this site to a friend by simply clicking!