Site updated October 16, 2001
Little America's Desert Song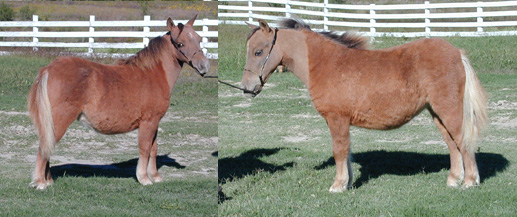 Sorrel Filly
Foaled April 10, 2001

Sire: Lazy H Desert Storm 31.25"
Dam: Little America's Tex Miracle Melodee 31.5"
by Little America's Sesquicentnennial Tex
by Xenon-Light Van't Huttenest
by Orion-Light Van't Huttenest.

Miracle Melodee is a half sister to Little America's 007 Rowdy Tornado and has been a wonderful broodmare. This pretty filly should follow in her dam's footsteps, who was a National Show qualifier before becoming one of our top broodmares!
Questions or comments?
Send this site to a friend by simply clicking!