Site updated October 16, 2001
Little America's S S Deja Vu
SOLD Congratulations to Jaqueline Forte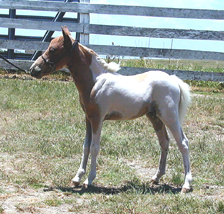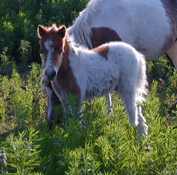 Sorrel Pinto Filly
Foaled April 16, 2001


Sire: Springmint's Special Sensation 27"
Dam: Little America's Dee Day 31.25"
by Komoko's Little Dude 30.5"


The dam of this filly was foaled on tax deadline day, in 1994, hence her name. This year because April 15th was a Sunday, the tax deadline this year is April 16th. And here comes this pretty little filly that is almost her mother, all over again. So, Deja Vu seems like an appropriate name. Special Sensation has been giving us some very colorful and pretty fillies.
Questions or comments?
Send this site to a friend by simply clicking!