Site updated November 20, 2001
Little America's Artsy Tornado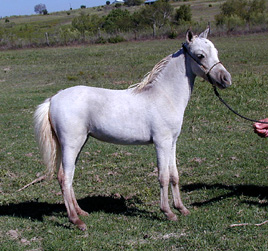 Palomino filly
Foaled June 16, 2001

Sire: Little America's 007 Rowdy Tornado 27"
Dam: Del's Muffin 30"

Look at this baby doll headed filly! Del's Muffin is one of our most outstanding broodmares and this is one of only two fillies, but she is noted for her outstanding colts, including the fabulous Little America's Desert Oasis, who was AMHA Top Ten and is only 27" tall. We will probably keep this filly to replace her dam, unless someone wants her to show. Her grandsire is Hemlock Brooks Autumn Frost, one of the most colorful buckskin pinto stallions of the breed. This filly will be a fantastic asset to our or someone's breeding program.
Questions or comments?
Send this site to a friend by simply clicking!